Five years ago today I established this blog, or so WordPress says.  Has it really been that long?  I had no idea.  I moved over here from Vox, which at that time was a going-out-of-business blog platform and not a vibrant and flourishing news site.  So, yay, and happy WordPress anniversary to me.  As an anniversary gift, I present to you another blog entry.  🙂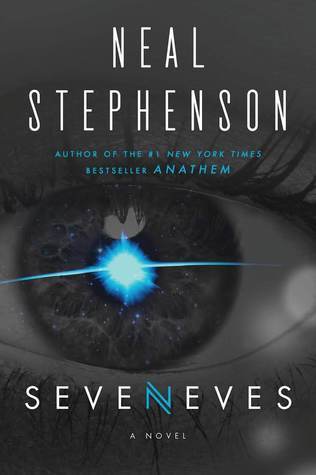 I finished a book and a scarf this week.
The book was Seveneves by Neal Stephenson: hard SF at its finest, but easily accessible for non-scientists and non-mathematicians like me.  The moon is destroyed and Earth is running out of time.  How will the human race survive this extinction event?  Read it and find out.  Even if you don't care for science fiction itself, this is so well-written and moving, the humanity of the story might win you over.  Click the book cover to read the full non-spoilery review.
Now, the scarf. You saw this first on last week's WIP Wednesday. Because I, um, have been avoiding sewing up the Tunisian Terror, this scarf-cum-shawlette got lots of attention.
Pattern:  Chinook Scarf by Ali Green.  Very well-written pattern, really easy to follow.
Yarn: Cozette by Knit One Crochet Two, 257 yards of a 275-yard skein.  Colorway: Sea Glass.
Needles: Addi Turbo Clicks with a short cable, US size 7.
Size:  64 inches wide, 14 inches deep
Satisfaction with end product:  I think it's grand.  The scarf is ultra-lightweight because of the high silk content of the yarn, plus it has a lovely drape.  I love the knitted-in I-cord edging along the top, which made a sturdy and even straight edge to support the rest of the design. The icy color will coordinate well with many outfits.  It should make a nice transitional piece or year-round accessory.  It's intended as a gift.  Now I just have to figure out who it belongs to.
Because I don't know when to quit, here are a couple more photos.  As always, click any of the photos to see them full size.
This blog entry is part of the Freshly Finished Friday round-up hosted by HardKnitLife.  Click that badge to see what other folks have finished this week and add your link to the list.  Also linked with Gracey's Goodies, so check that out too.