Same as last year, 2015's goal was to finish an average of a book a week: 52 weeks, 52 books.  The Goodreads shelf for 2015 shows 69 books in total.  That would be 69 books attempted, because Goodreads only counts the total put on the shelf, not the total I actually finished reading.
Analysis of that 69-book statistic reveals 15 books were abandoned very early on or in mid-read and never finished.  Most of those abandoned books were simply gawd-awful wastes of digital data space, but a couple of them were left unfinished because I stopped caring or never acquired any sympathy for the characters within.  Of the remaining 54 books, none were re-reads.  Goal accomplished.
I managed to write reviews of maybe half of those 54 finished books, which is too bad, because several books that were real standouts don't have written reviews.  Of the standouts (below), if I wrote a review, I linked to it; otherwise, I linked to the main book page.
I read a number of books about magic this year.
The Night Circus by Erin Morgenstern tells the story of two young people caught in an on-going magical competition, fueled by the ancient rivalry of their fathers. I came away from this book wishing I could visit Le Cirque des Rêves myself, if only to see the Ice Garden and the Cloud Maze.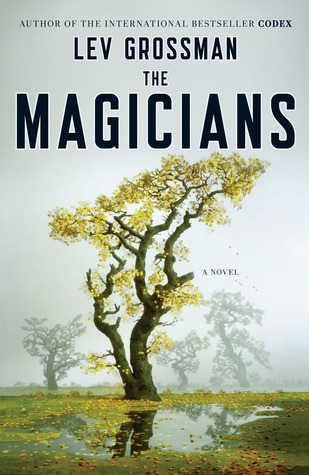 Lev Grossman's Magicians series caught my attention a few months ago.  (It also caught the attention of the SyFy Network because its series based on these books debuts January 25.)  The series had been on my radar for a while but I finally picked up the first book from the library a couple of months ago. Many readers didn't care much for Quentin Coldwater, who is somewhat of an anti-hero, and I admit he is a little hard to take. But the story itself is a fascinating twist on the
idea that magic exists, some people are naturally talented at using it, and those people are recruited to attend a special school. The first book, The Magicians, was good. The second book, The Magician King, was better. I'm waiting for the third book, The Magician's Land, to become available at the library.
In keeping with a magical theme — although "magical realism" might be a better term, if such a term can be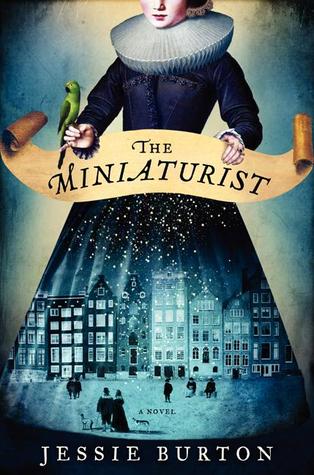 applied to a period piece —  I thoroughly enjoyed The Miniaturist by Jessie Burton. Unfortunately, this was one of those books that didn't get a review other than its 4-star rating.  From what I remember, it was beautifully written, gloomy and dark and mysterious.  I thought it was lovely.  Plus the cover art was simply stunning.
Alan Bradley's latest Flavia de Luce novel,  As Chimney Sweepers Come to Dust, is as delightful as all of its predecessors.  Flavia, now age 12, has been exiled (for so she sees it) from Buckshaw, her beloved if bedraggled home in rural England, to Miss Bodycote's Female Academy, an all-girls school in Toronto, Canada, where her mother had been enrolled.  Naturally, a dead body is very nearly the first thing our intrepid heroine encounters, and Flavia is back in her default sleuthing mode, albeit in unfamiliar surroundings and absent her usual sources of information.  Pure fun.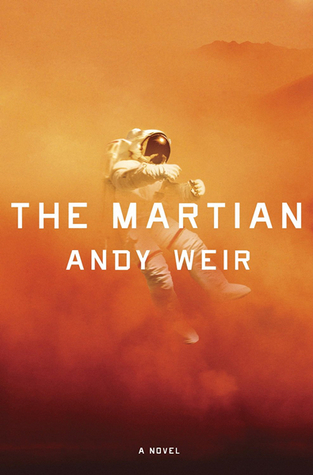 Speaking of pure fun, The Martian, even given its serious subject matter of a lone astronaut marooned on Mars and struggling for survival, was something I read with a big grin on my face nearly the whole way through.  Andy Weir wrote a rollicking adventure yarn filled with gee-whiz moments, and created a hero who maintains a can-do attitude if only to ward off depression and despair.  I haven't seen the movie yet, but it's on my list.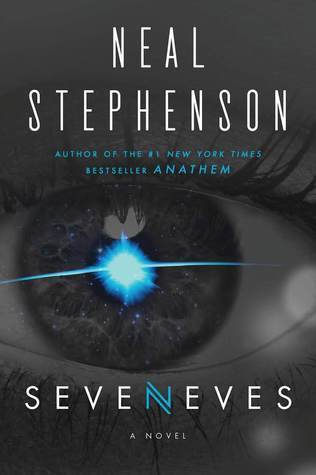 On a more serious note, several of this year's standout novels dealt with an apocalypse and its aftermath.  The masterpiece was Neal Stephenson's Seveneves, a spectacular hard SF novel that tells the story of mankind's efforts to save itself when some mysterious force wipes out the moon.  Filled with all the math and science anyone could ever hope for, but still accessible for readers like me whose formal math and science education stopped with high school trig and freshman biology.  This novel ended in a way that leads me to believe a sequel may be forthcoming.  Nothing on the author's website currently says any such thing, but one can hope, right?
The Water Knife by Paolo Bacigalupi addresses a different apocalypse, one fueled by climate change and inspired by the raging drought currently suffered in the western United States.  In this near future novel, cut-throat corporations feud over water rights with brutal force and no one stands in their way.  Scary as hell.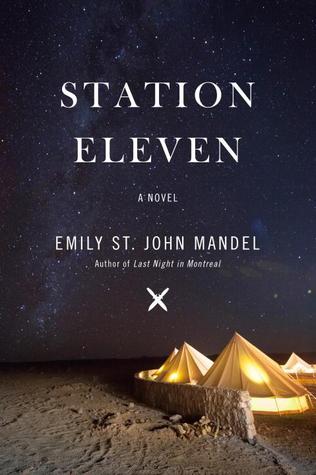 A more conventional end of the world sets up the events in Station Eleven, but the setting itself is unusual.  After a worldwide plague wipes out most of the population, a traveling theatre troupe roams the Great Lakes area of North America, eking out a living while practicing their art.  But then they run afoul of the leader of a religious commune, and their travels become a race for survival.  Emily St. John Mandel wrote a breathtaking piece of fiction that bounces between the events that led up to the disaster and the post-disaster consequences.  Don't miss this one.
Ursula LeGuin's The Lathe of Heaven can be seen as post-apocalyptic if one looks through the eyes of its main character, George Orr, who awakens in a new world every day — a world that changes based on the content of his dreams — and he's the only person who remembers the old.   I don't know why I haven't read more LeGuin; this is only the second of her novels that I've picked up (the first was The Left Hand of Darkness, read in 2006).  I'm putting the rest of her novels on my library list right now.
Finally, there's The Book of Strange New Things by Michel Faber, which I reviewed in the blog entry linked in the title. While the slow-moving catastrophe taking place on Earth isn't the focus of this novel, the background tension it creates for our chief protagonist helps drive his choices.
I read so many excellent books this year that it was difficult to choose the titles to highlight.  Books deserving "honorable mention" follow, and any of them are worth reading:  Never Let Me Go by Kazuo Ishiguro; The Goldfinch by Donna Tartt; The Scar by China Miéville; Life After Life by Kate Atkinson; and How to Tell Toledo from the Night Sky by Lydia Netzer.
In other 2015 accomplishments, all of the year's reading material came from the library or free from Amazon.  I didn't make a single new book purchase this year (except for a few knitting pattern books and some nutrition books recommended by my doctor: I hereby decree that those doesn't count).   I did buy a few used books from a used bookstore while on a day trip to an unfamiliar city.  Looking ahead, 52 finished books is once more the goal for 2016, plus I'm adding the goal of writing at least a one-paragraph review of every book I finish within a day or two of finishing and posting that review here on this blog. I'd also like to keep up the pattern of reading from material already owned or acquired from the library.  We'll see how that goes.