I abandoned making New Year's resolutions ages ago because I always ended up breaking said resolutions and then beating myself up for failure.  Now I make plans or set goals.  Because plans can change if circumstances change and no fault accrues; and if goals aren't met, any progress made toward those goals is a win.  Baby steps are still steps in the right direction.
Reading plans and goals:  I mentioned a couple these in Sunday's Year In Review: Books blog post but they belong in this post as well.  My goal is to read and finish 52 books; then write at least a one-paragraph review and post it here as well as on Goodreads.  I also want to read more non-fiction.  Even though about one third of the books in my house are non-fiction — history, politics, sociology, and religion, mostly — I managed only one non-fiction title in 2015, and that one (Drift by Rachel Maddow) came from the library.  Speaking of the library, that's part of the goal as well: to continue to make use of the library and of books I already own.  I simply don't have room to acquire any additional physical books; and spouse and I have set
some financial goals that limit my discretionary spending. What discretionary spending room I have, I prefer to save for yarn.  Or travel.  More about that later, though.
A couple of LibraryThing Early Reviewer titles rest here on my desk,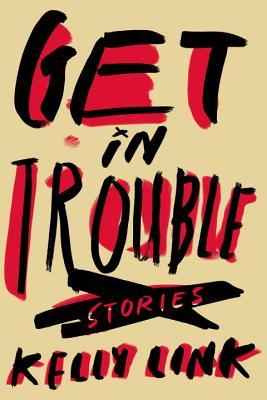 waiting to be read:  Trigger Warning by Neil Gaiman and Get In Trouble by Kelly Link.  Getting those read and reviewed will do two things: alleviate the guilt I have for letting them sit as long as they have and add toward the annual reading goal.
Other than those two specific titles, and a general notion toward adding more non-fiction, I have no restrictions or plans for my reading material.  In the past couple of years, what I read and the order in which I read it has been dictated by the local library system.  I have a wish list, and when a title on the wish list becomes available, that's what I read next. It's rare that I don't have at least one title from the library checked out.  Maybe cutting down on the wish list items will aid toward reading down the physical Mt. TBR in the house.  But that's not a priority.
Yarn plans and goals:  2016 will be the Year of Knitting Selfishly. All the knitting I did in 2015 was for other people.  This year it's all about me and it's all about the stash.*  First thing will be to finish the Wildflower Cardigan, an Alana Dakos pattern that's been waiting patiently for more than a year.  The partial sweater is shown at right; the yarn is Elsebeth Lavold's Silky Wool in Acorn. After that, I want to find the right pattern for a cotton shrug I've been wanting to make in a turquoise Cascade Ultra Pima.  And at some point this year, I hope to find some use for the two colorways of Rowan Plaid that's been in my stash for going on 8 years.
*Let me say at the outset that I do NOT pledge to go "cold sheep" — that is, not buy any new yarn — because that's a sure-fire way to set myself up for failure.  What I can do is shop the stash first and, if I go to a yarn store because I'm traveling or because I'm accompanying someone else, I can limit myself to a single skein or two of exquisite sock yarn.
Speaking of finding patterns, I've decided to take part in Snapdragon's Knit Your Library Challenge (click the link to learn more).  I'm confident that somewhere within all the pattern books and back issues of knitting magazines filed away in this house is any project I could possibly wish to make.  Matching the yarn to the pattern to the mood will
comprise a major part of this challenge, I think.  Sometimes I want to knit something new, but can't make a connection between the stashed yarn in my hand and the library patterns that show up in Ravelry.  And the reverse is sometimes true:  I find a library pattern that I love love love but nothing in the stash works for it. When I have some time to breathe, I will spend several hours matching patterns and yarns and lay them out in an organized fashion. I've already got a couple of matches in mind.
Technique goals: This will be the year I finally tackle a Fair Isle project: a little one, like a hat. Three stashed skeins of a fingering weight cashmere blend in complementary colorways are screaming at me, so I want to shut them up. I also want to learn some different sock heels. I've always done the "flap and gusset" heel, so a short row heel and an afterthought heel are on my list this year.
Finally, I intended to have this blog entry ready to be published yesterday. Remember what I said at the top of this entry about plans? The universe had plans that trumped mine. I had to take my husband to the emergency room yesterday afternoon: he is currently hospitalized and we expect him to remain in the hospital for several days yet. His condition is not life-threatening — well, not really. I mean, it could be, but mainly it's a chronic condition that periodically flares up and makes our lives miserable. I'll be able to catch my breath when he comes home. In the meantime, I'm getting lots of knitting and reading done while sitting by his bed, in between the times I run home to take care of the pets. Thank heavens for an understanding employer.