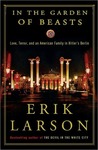 In the Garden of Beasts: Love, Terror, and an American Family in Hitler's Berlin by Erik Larson
My rating: 3 of 5 stars
William Dodd, a history professor, was appointed as Ambassador to Germany in 1933, when Adolf Hitler was Chancellor under Hindenburg. In 1934, after Hindenburg's death, Hitler became the head of state and began a systematic implementation of his plan to rid Germany of its "undesirables". And Dodd began sounding warning bells.
Sadly, those warnings were unheeded, and even resented, by State Department bureaucrats in Washington. A particular cadre within the State Department was determined to undermine Dodd at every turn. His reports on Hitler's actions and worsening conditions for German Jews were minimized and dismissed.
One can only wonder if the 20th century might have been less bloody had someone, anyone, taken Ambassador Dodd's reports seriously.
It was strange and disturbing to read this while living through the 2016 Republican race for the Presidential nomination. While Hitler was already in a position of power and Trump, et.al., were only jockeying for one, the parallels were more than a little unsettling.
By the way, Erik Larson spent a great deal of time on Martha, Ambassador Dodd's daughter. While her exploits were marginally interesting, I ultimately didn't care who she married, how many people she slept with, or what her political views were. To me, the real story lay with Dodd, Hitler's government, and the U.S. diplomatic corp. Larson apparently didn't think that story had enough meat in it. Or enough sex. Thus: Martha. And three stars. Because Martha. *yawn*
So, other than the Martha digressions, this is an excellent book, well-written and documented.
Oh, and it didn't really take me five weeks to read this book. I had to put it down for most of the month of February because I was doing a play — rehearsals and performances took all of my reading time. Once I had the time, I was done in about four days.