I often see posts where people have combed through Ravelry and other websites for  patterns (free and otherwise) and then posted the links to them: voilà, a blog entry! And my brain said:
But I want to put my own little twist on it, and feature patterns I've actually made. So I pulled out three favorite warm-weather projects and voilà, a blog entry!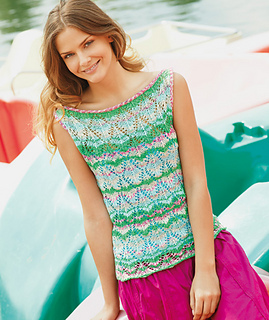 First up is this cute boatneck tank from Schachenmayr. Click here to go to the Ravelry pattern page.
The pattern calls for a 100% cotton sport-weight yarn. It's knit from the bottom up and employs a unique double cast-on technique that lends a stabilizing heft and substance to the bottom edge.  The front and back pieces are identical and seamed along the sides and at the shoulders. That means there's no front or back, and whichever way you put it on is the right way.
The lace pattern is charted only, so if you don't read charts, you'll have trouble. I should also mention that, although it was free, apparently Schachenmayr no longer supports this pattern and it can't be found on their website. There are a couple of print magazines that published it (linked on the Ravelry page) if you are fortunate enough to locate one of them. Or if you are extraordinarily gifted with the Internet Archive, maybe you can find a cached page with the pattern.
Anyway, here's my version, finished in 2017. Click here to go to my Ravelry project page.
I knit this tank with 628 yards of a worsted weight cotton/acrylic blend that had a bit of lurex thrown in for sparkle. The larger yarn meant my gauge was different than the pattern gauge, requiring a little math to figure out the right size. Casting on for the small gave me the medium, and I began the armholes at row 120 instead of row 148.
I also knit 4 rows garter stitch at bottom edge before beginning the lace pattern, plus I used 4 rows garter stitch at the neck and armhole edges instead of stockinette. I didn't turn over the arm and neck edges for a seamed edge.
I wear this tank a lot. It's comfortable and cool, looks great with jeans, capris, or a floaty summer skirt, and it's machine washable. To protect the lace from snags, it's washed in a mesh bag. I usually lay it flat to dry so I can block the lace, although sometimes I hang it to dry, and then use a steam iron to open up the lace pattern.
Next up is the Love Pecan top by Karen Broz. Click here to go to the Ravelry page. You can download the free pattern from Karen's blog, linked above. It's available in English or Spanish.
This top is knit seamlessly from the top down. It's designed for a 100% wool light fingering-weight yarn. The eyelet rows begin just under the bustline, so modesty is preserved. Those eyelet rows help keep the wearer cool despite the use of 100% wool, as does the looser-than-usual gauge for this weight of yarn.
Again, no difference between front and back, so no matter which way you put it on, you have the front in front and the back in back. That makes getting dressed easy, and heaven knows we need easy right now. Figuring out which way to put on one's shirt takes brain power we might need for surviving the pandemic currently raging outside. Or maybe that's just me.
All right, here's my 2020 version, with Covid hair and everything. Click here to go to my project page.
I knit size 1 (small) and used 740 yards of a fingering weight 70/30 wool/silk blend that had been sitting in stash for several years. I thought the colorway was perfect for this top.
After knitting 15 or so rows, I realized I hated the rolled neckline, so I ripped it all out and started over. Instead, using the same stitch count, I knit 2×2 ribbing for 8 rows, and then continued as written, mostly. A few further modifications: knit four rows in stockinette before starting ribbing on sleeves; offset every other eyelet row by two stitches so the eyelets didn't stack up; added two extra eyelet rows at the bottom; knit two extra rows of stockinette after last eyelet row before starting ribbing at hem.
I love this top. I wear it a lot. In fact, I'm wearing it as I type this post. I wash it in a mesh bag in the machine on the gentlest cycle, using Woolite, and lay it flat to dry. (I should mention I have a front-load washing machine with no agitator. I wouldn't dare put this top, or any other hand-knit item, in a machine with an agitator.)
Finally, the Striped Tee from Eweknit Toronto. Click here to go to the Ravelry page.  You can purchase the pattern from the website linked above. Kits are also available if you like the pre-selected colors. Otherwise, choose your own and have fun with it! The pattern calls for a DK silk/merino blend.
(Another thing I should mention is I don't get any kickback if you click these links. All the patterns linked here are patterns I made and loved, not patterns I'm getting paid to promote.)
Anyway, this is another top-down seamless tee, with a nifty wrap stitch detail at the hem and sleeve edges that gives just a bit of pizazz to an otherwise plain striped tee. The raglan sleeve makes a nice sharp corner when worked in the stripe pattern. There's a small short row section near the hem on the back to help shape the top over the rump area.
Naturally, my 2020 version (this time with hair that had recently seen a stylist) has modifications. As usual, clicking here takes you to the project page.
The purpose of making this top was to use some single skeins of Rowan Cotton acquired several years ago through a subscription bonus, plus the remainder of some Mirasol T'ika that had been marinating in stash for, um, ten (!) years. So I didn't follow the striped pattern of the original tee. Instead, because each skein was about the same yardage, I knit until each skein was gone (or I didn't have enough left to finish a round), giving me stripes of equivalent width. The final skein of the T'ika was used to finish up the sleeves. I added a few extra rounds of stockinette on the sleeves before starting the edge pattern. I made the 39 1/2″ size, and used a total of 695 yards.
I love this top. It's comfortable to wear, easy to wash (machine wash, lay flat to dry), a little heavy because it's 100% cotton, but no matter. I pull it out to wear at least once every couple of weeks.
There you go: three summer tops and my personal experience with them. Now go try them for yourself.